Yosemite National Park was formed in 1890. Who signed the first legislation that protected key parts of the park?
President Abe Lincoln. In 1864 he gave the Yo-semite Valley and the Mariposa Grove of giant sequoias to the state of CA.
The National Park Service's first director, Stephen T.  Mather, was said to personally favor Yosemite National Park at the creation of the NPS in 1916.
What other national parks were in existence by that time and run by the U.S. Department of the Interior? Well, Yellowstone, for one, opened as a national park in 1872. There were 12 others in existence before accounting for national monuments and reservations.
Back to Mather. He pushed aggressively for concessions and accommodations upgrades at Yosemite where overnighters were mostly tent campers. In July 1925, successful West Coast architect Gilbert Stanley Underwood was selected by concessionaire Yosemite Park and Curry Company to design what came to be a hotel in the Arts & Crafts style. His lodge for Bryce Canyon National Park was just opening then.
Underwood's final design is a Y-shaped hotel with 3 3-story wings flanking a 6-story central tower. Native American flourishes are added to the Arts & Crafts style in what's sometimes called "National Park Rustic" or "Parkitecture". First floor ceiling heights reach to 34′. Grounds designed by Frederick Law Olmstead's firm.
To minimize the chance of fire, the selected building materials were mostly of steel, granite or concrete. The exterior is granite and concrete–the concrete is stained to look like redwood.
Cornerstone laid on 8/1/1926. No building materials were allowed to be taken from the 748,036-acre (3,027.19 km2) park–as it was and is protected.
The hotel, named Ahwanhee after what the Ahwahneechee people called the Yo-semite Valley, had its official opening July 16, 1927. Cost: $1.25m. Original cost was $525k, supposedly guaranteed.
For 2-1/2 years from 1943, the U.S. Navy converted the hotel to an R&R hospital. The Great Lounge became a dormitory for 350 men.
Today this hotel, just lately (and hopefully, temporarily) renamed the Majestic Yosemite Hotel, offers 93 rooms, including 6 suites. In 8 close-by bungalows are another 24 rooms. Room rates in-season are what one might expect: high. Reservations for its 350-seat dining room should be made well in advance.
During my wife's and my visit, we ate a late lunch in The Ahwanhee Bar, just off the hotel lobby. We shared a platter of smoked salmon and trout with capers, a mild horseradish sauce and toasts. The view from our table was delightful, thank you.
Many other views are breath-taking at this iconic and historic hostelry.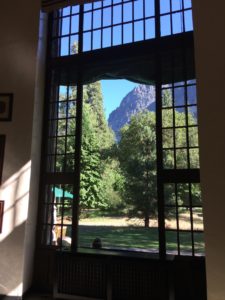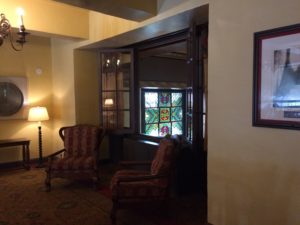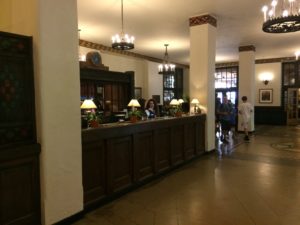 The Ahwanhee Hotel was listed on the National Register of Historic Places in 1987–just where it belongs as to protection for its interiors as well as exteriors.
And, this building is very sustainable for its 90 years of embodied energy which I wrote about in a previous post.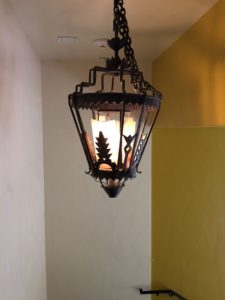 One of the hotel's earliest guests was photographer extraordinaire Ansel Adams. At the Ansel Adams Gallery in the village are low-cost reproductions of his originals taken in the park and elsewhere.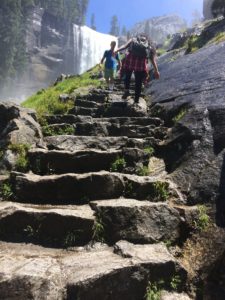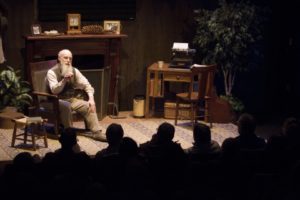 P.S. Suggested activities in the park include climbing to the top of Vernall Fall, and an evening being entertained by actor Lee Stetson who masterfully portrays John Muir as explorer, Yosemite National Park creation advocate and storyteller.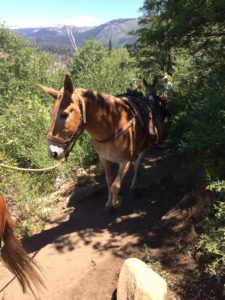 Lots of crowds when we visited a month ago, but with a tip gained from a van tour guide one day, we found a sparsely peopled trail the next day. Hiking down the trail, a loaded mule train came barreling up the trail with absolutely no warning. We pressed ourselves into the bushes alongside the narrow trail as it swept past us. Exciting!