Last Thursday was my final Baltimore Reading Partners tutoring session with a 2nd grader at Dallas F. Nicholas Sr. Elementary School. Just in the nick of time, I remembered we tutors were encouraged to bring a gift to our kids.  "A book, perhaps?"
This was not an amazon order, anyways, but rather a search of the shelves at the Ivy Bookshop, a great independently-owned bookstore a light-rail/bike ride north of my office. I've been there several times before, but not for children's books. So, when calling in advance, I was assured there was a great selection of books for youngsters there.
Thankfully, the just-right book I found was just recently published, so featured on its own plexi-easel as recommended reading. Still, it took me awhile to actually see it, but that's because the selection for child readers was broad and high.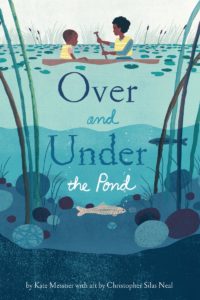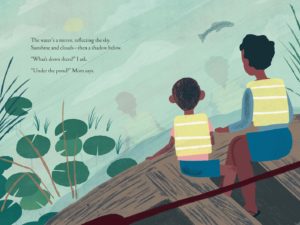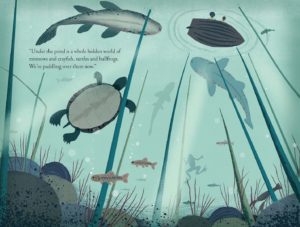 Kate Messner is the award-winning author of the book I picked out for Joshua, Over and Under the Pond. Here's its cover and two pages.
She's a former 15-year middle school teacher who lives on Lake Champlain with her family. There she kiyaks, and ice skates when the sheet is frozen over.
She collaborated with illustrator Christopher Silas Neal on this book and a couple of others. Neal's illustrations are perfect for their tone as well as color in this one which Joshua and I read together early that same afternoon.
One of the others is called Up in the Garden and Down in the Dirt.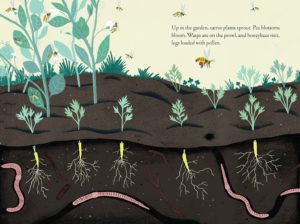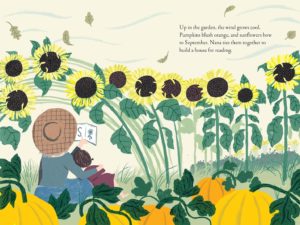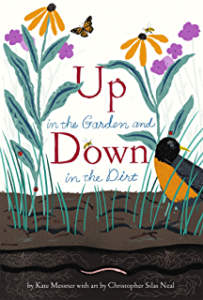 What Messner brings to the imagination for readers with her clear, simple sentences are augmented by Neal's beautiful illustrations.
Surely one or more of these can be added to the summer reading list of someone you want to help appreciate nature and the environment from the earliest possible age?